Garden Day 9th May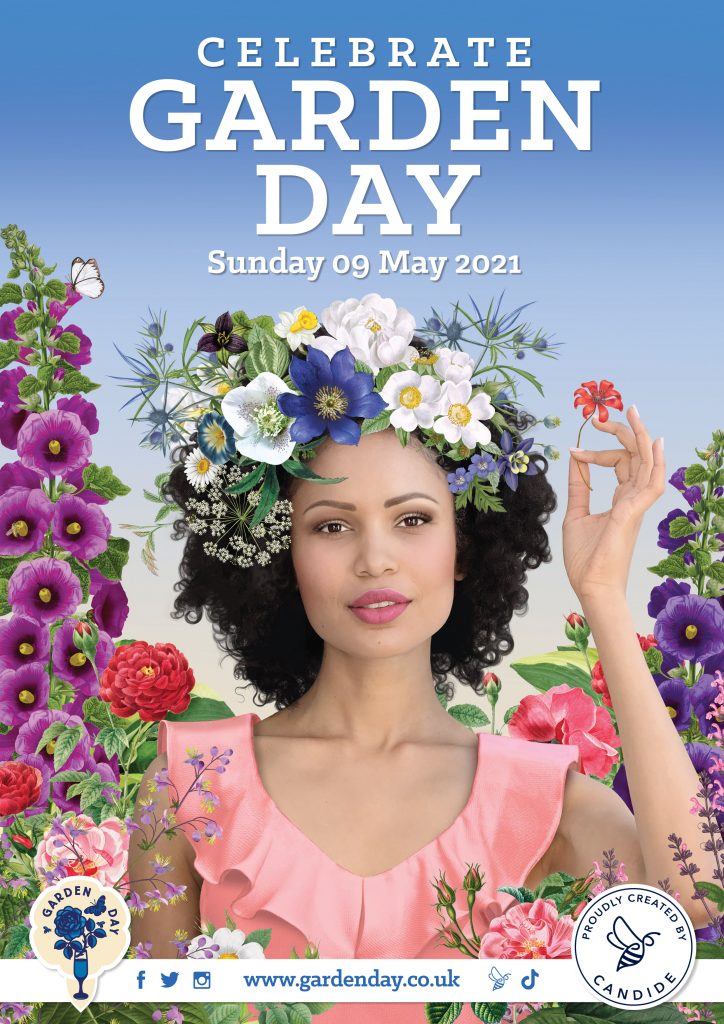 Garden Day is back for a third successive year on Sunday, 9th May 2021 to celebrate the life-enhancing power of outdoor and indoor garden spaces. The nationwide community benefit movement is calling on all plant-lovers to down tools on Garden Day, make a flower crown, and share their plant spaces with family and friends (respecting government guidelines, of course) over an alfresco meal, a cup of tea or a glass or two.
For millions of people isolated during the pandemic, there has arguably never been a better time to appreciate the joy, comfort and hope that gardens and greenery bring. And leading the call to celebrate Garden Day this year are five plant fanatics from the worlds of gardening, floristry and television: gardener, writer and TV broadcaster, Rachel de Thame; floral designer, Hazel Gardiner; TV, celebrity florist Nikki Tibbles of Wild at Heart, TV presenter and model, Lisa Snowdon; and gardener, florist and author, Arthur Parkinson.
#GardenDayCrown Competition
For florists and flower arrangers everywhere, the Garden Day symbol of support – the flower crown – offers a wonderful opportunity to showcase your creativity and floristry skill in a fun, relaxed and uplifting way. And to spice things up, Garden Day are inviting florists to show the world what you're made of in a #GardenDayCrown competition on social media.
All styles are welcome, from the delicacy of a Midsummer Night's Dream to the flamboyance of Beyoncé and Rihanna and every creative stage in between. The five winning entries will receive a year-long membership for 4 to the stunning gardens of The Newt in Somerset and an indulgent Scents of the Garden gift set worth £90.
HOW TO ENTER: Post a shot of you or your pet wearing your flower crown on Instagram, Twitter or Facebook by midnight on 9 May 2021 using the hashtags #GardenDayCrown #GardenDayUK and tag @GardenDayUK. For T&Cs visit www.gardenday.co.uk/competitions
British Flowers Week 14th -20th June
British Flowers Week, a campaign run by New Covent Garden Market, is returning for it ninth year between Monday 14th and Sunday 20th June 2021. The weeklong festivities will celebrate the beauty and variety of British cut flowers, foliage and plants, as well as the florists, growers and wholesalers who make it all possible.
To get involved this year they are encouraging businesses and the public to decorate their windows with British flowers in their home or places of work; preferably where passers-by can enjoy them from 14th to 20th June. Whether it's with a single stem, a bouquet made from garden flowers or a spectacular display, a decorated window with show support for the British flower industry this June.
NCGM said "To get involved create a British Flowers Week window with British flowers, foliage or plants, from the garden, a local grower, florist or wholesaler. You can find inspiration in our British Flowers Week window gallery, as well as ideas and resources in our British Flowers Week toolkit. Once you've created your design take a picture of your British Flowers Week window, share it on social media using #BritishFlowersWeek and tag @MarketFlowers to show support for British businesses and go in the draw to win fantastic prizes".